I recently decided to follow through on adding JSON Feed support to my static site generator. I've got this generating for my site:
…but haven't been able to get NewsBlur to pick up the entries, even after fixing a couple of bugs in my initial version and adding some more fields. I get an empty "[Untitled]" feed, with the following "misbehaving site" diagnostics: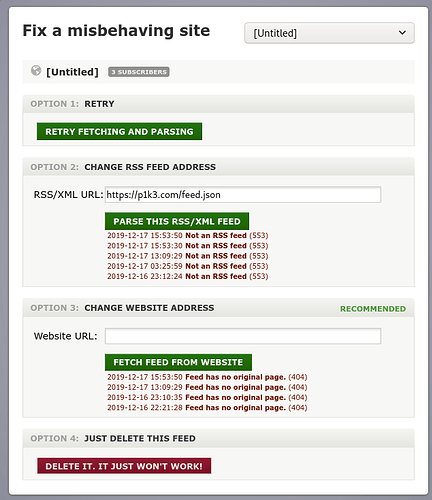 It's valid JSON, as best I can tell, and likewise validates here.
It's served correctly as application/json:
17:46:31 brennen@inertia:~ ✿ curl -I https://p1k3.com/feed.json
HTTP/1.1 200 OK
Server: nginx/1.10.3
Date: Wed, 18 Dec 2019 00:46:37 GMT
Content-Type: application/json
Content-Length: 330753
Last-Modified: Tue, 17 Dec 2019 06:00:54 GMT
Connection: keep-alive
ETag: "5df86f16-50c01"
Accept-Ranges: bytes

I had a quick skim through json_fetcher.py and didn't really see anything that'd obviously be failing.
Any thoughts?