It keeps showing me the premium option and doesn't allow me to see all stories in a feed.
First of all, I already have a premium subscription.
Second, I can't view more than 3 stories without seeing the ad? Not good.
Third, I get the message even when I am viewing "all stories."
I have tried logging out/in and no difference.
Please fix ASAP.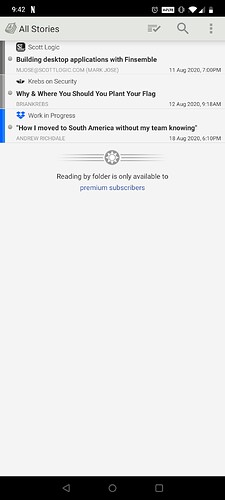 app version: 10.1b3
android version: 10 (HD1905_14_200724)
device: OnePlus HD1905 (msmnile)
sqlite version: 3.22.0
username: xxx
server: default
speed: 0 feeds in conn:0 read:0 parse:0 store:0
pending actions: pre:0 post:0
premium: unknown
prefetch: yes
notifications: no
keepread: no
thumbs: no